WHO WE ARE
Kyboka designs, manufactures and market high end allround utility carts for outdoor enthusiast and professionals.

Kyboka is founded by Fons Sweegers, based in Eindhoven, the Netherlands. Besides the great outdoors, we are inspired by lightweight materials, outdoor lifestyles and foldable mobility concepts. As we grow, we focus on elegantly designed, high quality and innovative products to make transporting your gear a whole lot easier and more fun. In addition, for our online store, we will expand our assortment gradually offering an unique selection of innovative products to get the best out of a day in the open.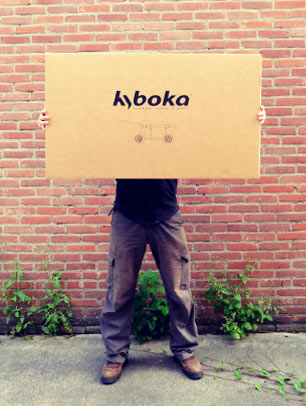 THE IDEA
The idea of designing the Kyboka outdoor cart was born back in 2005. Many of us love the outdoors, but in time we have collected quite a pile of gear we need to take with us to remote spots for kitesurfing, camping, diving etc. Existing carts and monster bags make heavy haulers and aren't that easy to lug up a dirt trail. Not to mention the fact that cars have been banned more and more near recreational areas, making packed hikes quite a burden.
The Kyboka outdoor cart answers the call to make your gear hauling process a whole lot easier and configurable to your needs and style.
THE CHALLENGE
To meet the expectations of our future users, the cart should be foldable but strong, easy and stable to manoeuvre, even on dirt tracks and on the beach. It should be light and being able to carry lots of stuff and to give room to kids too occasionally. Plus it should offer great usability and configurable to personal needs for storage and on the go. And of course, it should have an appealing design fitting your outdoor and/or professional lifestyle.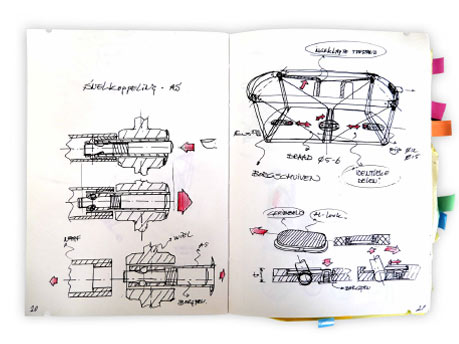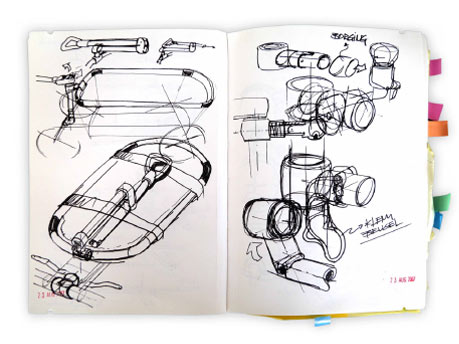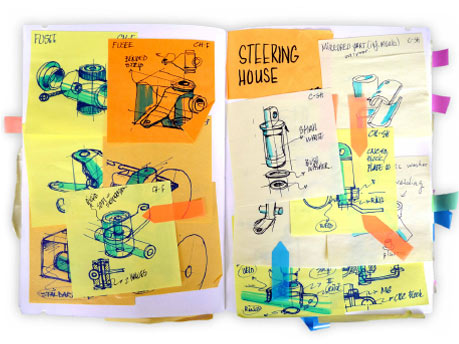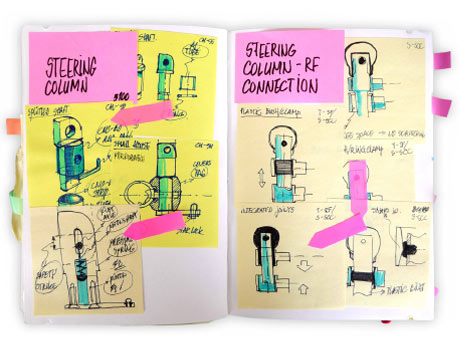 BUILDING THE CONCEPT
The idea of using a stretched tub to built a solid carrier was an unique approach. Starting with some sketches and experimental bread board model making using PVC tubing, duct tape and a fold-able camping table, a full functional model gradually became reality with the help of dedicated professionals. The idea worked and in 2009 we got the (un-)folding principle and design officially patented.
GOING DUTCH
The first model was barely ready, when kicking off a second one (Blue). However, a new challenge had to be faced. The design had to be improved within the validity of the pending patent. Within six months a new prototype was developed and build based on a complete new stretching principle. This new model was proudly presented at the Dutch Design Week of 2009 and gained lots of praise of the press and audience. Especially its design and light manoeuvrability. Highlight for us was a publication in the bi-annual release of PDMA's 'Good news from the Netherlands - 50 Most inspiring innovations'.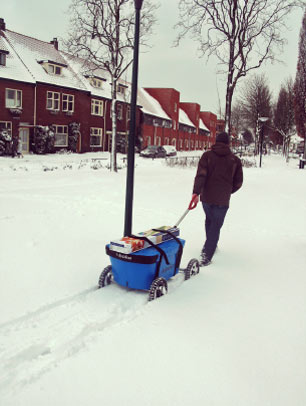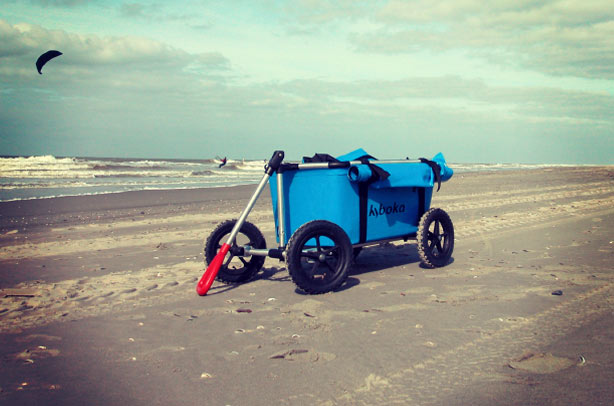 GOING EAST
Because of a lack of funding we were forced to shelf the project for over two years. However, the project was never out of mind. At the beginning of 2013 the opportunity presented itself to go to Taiwan. Due to the help of many from the Taipei designers network the project took off again. We started to team up with specialists and designers in outdoor gear. Shortly after contacting manufacturers from the bike industry it seemed to be possible to start-up in small quantities in an economical way. In the summer of 2013 we could check our first parts, but it took another six months to get everything in place for producing a sample batch. In the spring of 2014, we finalised the first batch and shipped the part to our workshop in Eindhoven for assembly and fulfilment.